Product Description
Home & Roost are proud to present The 4ft Chartwell Single Luxury Rabbit Hutch. It's a spacious, deluxe hutch which is ideally suited to one rabbit or two Guinea Pigs. Manufactured in the UK using 10mm Scandinavian timber side panel construction, the Chartwell Single Hutch features a cozy arched divided bedding area, a central wire panel to hang a water bottle and a removable plinth for easy cleaning and safe petting. The integral legs lift the hutch off the ground to prevent rising damp and ensure adequate air circulation. The Chartwell Single 5ft Hutch has been weather proofed with animal safe, water based wood preservative to protect against deterioration from rain and sun.
Features
Deeper and Higher than other Rabbit Hutches on the market
Robust 10mm timber side panel construction
1"x ½" galvanized wire mesh doors
Cosy arched divided bedding area
Central wire panel for water bottle
Removable under door plinth to sweep away waste and safe petting
Integral legs
Aluminum barrel bolts
Weather proofed
Easy diagram assembly
30 Day No Quibble Money Back Guarantee
Recommendation
Why not add The Chartwell run to your purchase? It fits onto the front of this hutch and is an easy way to provide additional recreational space.
The Chartwell Single Hutch Hugger & Snuggler fits this hutch perfectly and will keep your hutch (and your pets!) dry and snug, whatever the weather.
Regular hutch cleaning will keep your pet healthy and extend the life of your hutch
Apply a water based wood preservative between seasons to maintain the durability of your hutch
Always position in a safe and sheltered area in the garden.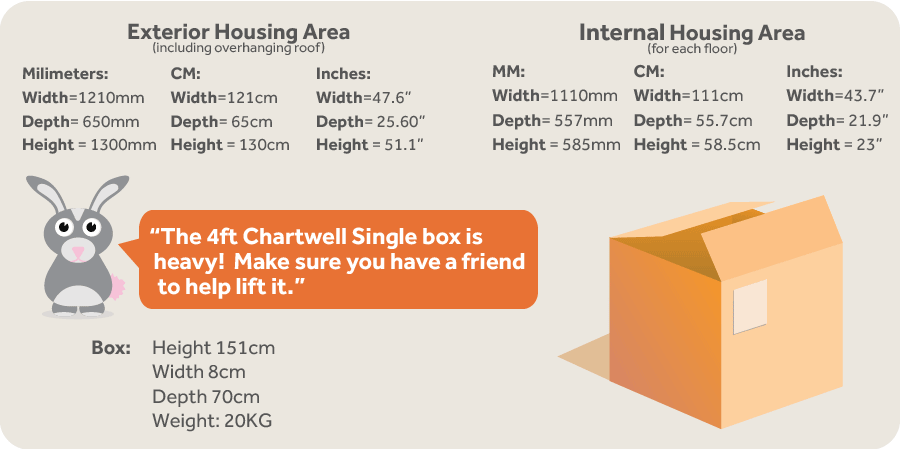 Delivery